Most of the people nowadays never get bored. The entertainment industries have pitched in lots of movies, TV shows, Web series, YouTube videos, and many more to keep people entertained. We are always scrolling through social media apps like Instagram, Twitter, Facebook, and come across videos we might want offline.
It is a fact that your internet will not give you the same speed in all instances. Imagine you are watching some movie, video and it begins to buffer or detects low internet connectivity and you are not able to continue watching, will that not irritate you? To avoid this, people have switched to downloading movies, videos, music, tv shows, and saving them offline to watch later.
This way you can seamlessly enjoy your movies with your loved ones without getting pissed off about bad network connectivity. For android users, it is easy to download and watch in offline mode and the same goes for the Microsoft OS. Microsoft enables you to download movies, music directly to your laptop/desktop/PC but with Mac it is different. VideoDukecomes to the rescue of Mac users so that they can also enjoy the perks of downloading.
Disclaimer- Before using any of the downloader to download videos, make sure it is legally allowed to do so. We do not promote illegal download of videos from any platform.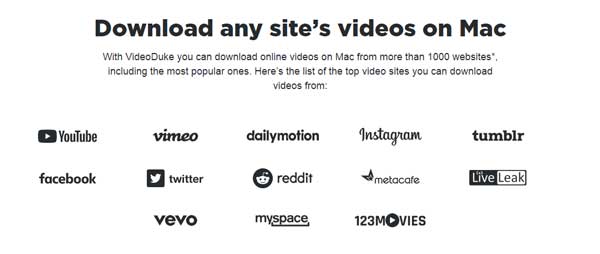 What is VideoDuke?
VideoDuke is a video downloading software specially designed for Mac users. It enables the users to download music, movies, videos, TV shows directly on Mac devices from popular video sites such as YouTube, Dailymotion, 123 Movies, Vimeo, and many more. It grants access to download videos in your desired video format (3GP, MP4, etc.), and desired resolution. It also allows the user to extract audio from the videos and take it offline.
Why VideoDuke?
VideoDuke facilitates downloading in two types of modes- Simple Mode (one-click download of videos) and Advanced Mode (selective downloading of files related to a video). It is user-friendly and helps in providing its users, support from all the top video sites. It is one the best video downloader for Mac in the market
It is ranked amongst the best in downloading music and videos on Mac. If you do not want the entire YouTube video, you can either extract audios from YouTube videos or convert your saved YouTube video to audio. It lets you easily download the entire YouTube channel to your Mac in whatsoever resolution you wish to.
You can download your entire YouTube playlist in one go, saving you the time of adding every song one after the other. While downloading TV shows from different websites, you just require entering its URL in the search box inside the website and can easily get it offline.
YouTube live streams considerably have a larger file size, but VideoDuke seamlessly allows users to download them. VideoDuke is making its way to top the list of videos downloading apps for Mac because of its minimalistic and user-friendly interface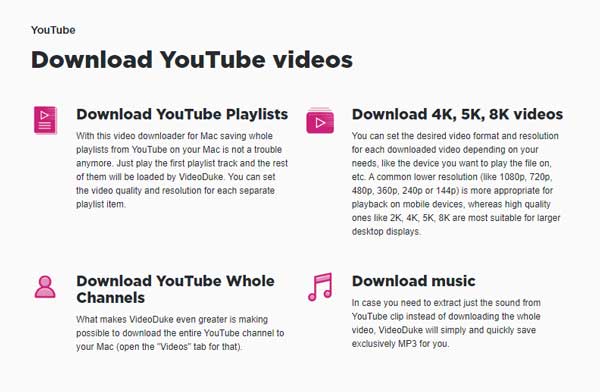 Conclusion
Building your own downloads library on Mac devices was never this easy. VideoDuke has pacified and eased video downloading on devices like Mac at affordable prices. You can easily sit and enjoy your movies, music, videos, etc. offline while traveling or on flights where there are high chances of bad internet connectivity.