We all have faced a situation where we feel the need to transfer our WhatsApp from Android to iPhone; whether you have bought a new iPhone or you just want things to be in one place, transferring WhatsApp data becomes crucial at times. But do we all know how it can be done? Well, if you are saying the "Chat Backup" feature is going to help you in this case, you are thinking it all wrong.
Let's not talk much and see some effective ways that can help you WhatsApp from Android to iPhone.
Method 1: One-Click WhatsApp Transfer from Android to iPhone
MobileTrans- Whatsapp Transfer is the fastest way to transfer WhatsApp data from Android to iPhone. It is the safest way of transferring data without deleting anything. This is one such option that is effective for both iOS and Android. So, know how you can use the amazing tool:
Step 1: First, go to the MobileTrans download website from your Mac and Windows browser. Then, you need to select the "WhatsApp Transfer" feature from the home page. Make sure that you connect both your device i.e. Smartphone and iPhone.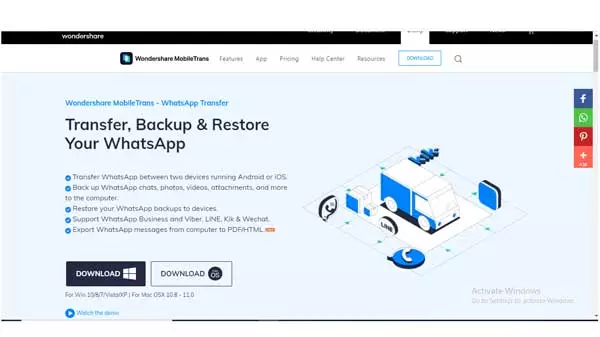 Step 2: After this, click on the WhatsApp feature and select "Transfer WhatsApp Messages" from the list of options.
Step 3: This app is smart enough to identify the devices that you have connected to your computer. Make sure of the placement of source and destination. You can use the "flip" button if you want to change the placement.
Step 4: When transferring WhatsApp data to iPhone, make sure it is selected in the "destination" device. Then, hit the "Start" button. If you already have one WhatsApp version, the data stored in it will be deleted.
Step 5: It will take a couple of minutes to transfer the entire data. After the transfer is completed, you need to remove the devices after you receive the notification for the same.
Step 6: Now, you are all set! Open WhatsApp and you will find the new data stored in it and you can restore it to any iOS device.
Method 2: Change Account Feature of WhatsApp Chat
WhatsApp has a very sound feature that helps users who want to change their phone numbers while switching the device, to transfer their data from one device to another. There is a lot of confusion associated with the topic that whether changing number on WhatsApp deletes data or you can retrieve it back, FYI, the data can be accessed just by following a simple workaround:
Start by removing the SIM card from your iPhone, and then put the new SIM card. Both the SIM cards should be activated by the time.
Open WhatsApp, open Settings>> Account>>Change Number. Follow the on-screen instructions for switching numbers on WhatsApp. Hit "Next" to proceed.
Type-in the old and new phone numbers in the allotted text fields. You will receive a verification code on your new number, verify the same to complete the change.
This way you can efficiently restore the backup on local storage using the new number and then use it to move the entire backup to iPhone from Android. However, the same SIM card should be used on iPhone as well.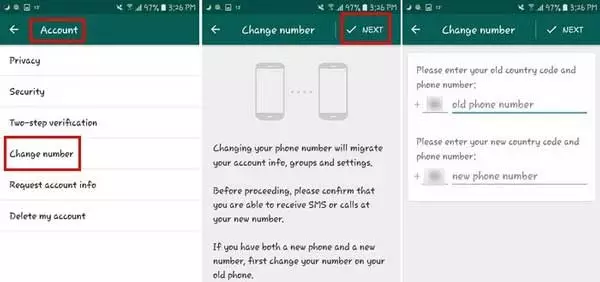 Method 3: Use Email Chat to Transfer Data
There are no direct ways to transfer WhatsApp from Android to iPhone using backup, but the chats can be exported. Chat of a particular Contact can be directly emailed on any account. So, this method is ideal for those who want to save some particular chats and maintain an external backup.
But these chats cannot be saved on WhatsApp, but you can access them on iPhone. For transferring a particular chat and emailing it on iPhone from Android using the steps given below:
Open WhatsApp on your device, and go to any conversation of your choice.
Click on three-dots from the top right corner that will open a few options for you. Select More and then Export Conversation.
You will be then asked whether you want to attach the media files or not. Choose whatever you wish. Mind that, attaching media files will affect the sending limit as most of the email servers won't allow you to exceed the 20MB limit.
After this, add the email address on which you want to save the chat. Alternatively, you can simply save it as Drafts.
Now, access the same account on your iPhone and download the chat and save it in the folder of your choice.
Is WhatsApp's Backup Feature Useful to Restore Data?
Most WhatsApp users believe that WhatsApp's "Backup Chat" feature allows you to transfer WhatsApp from Android to iPhone, but sadly, it doesn't work the way we think.
This feature is not meant for transferring WhatsApp chats from one device to another. However, to save your data on local storage or Google Drive, go to Settings > Chats > Chat Backup.
These files are now available at the local storage and can be accessed anytime anywhere. But this might not work when you are moving to an iOS device, as iOS apps do not support the transfer of data from WhatsApp. Since Android and iPhone devices have different encoding, this solution won't work when switching from Android to iPhone.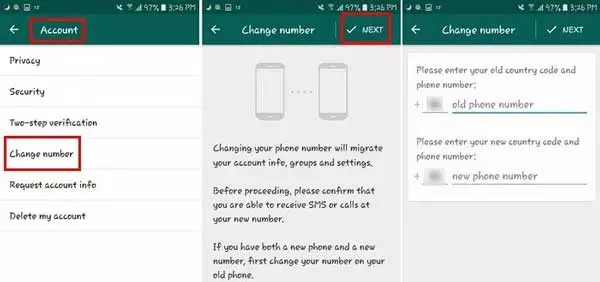 Few Useful Tips to Empower You
If you want to learn some tips that might help you while you are transferring WhatsApp data from Android to iPhone.
Having a backup at your end is very effective to avoid any sort of data loss. This way, you will always have a copy of important WhatsApp chats and it might come in handy in the future.
Usually, WhatsApp's in-built backup function saves data on the device's local storage. You can later access the database on another device with the same built-in terms of encoding.
MobileTrans is the most authentic and secure way to move WhatsApp chats from Android to iPhone. It is always great to test this tool before you make the actual transfer.
Having the same phone number on both devices is important while using the "Change number" feature.