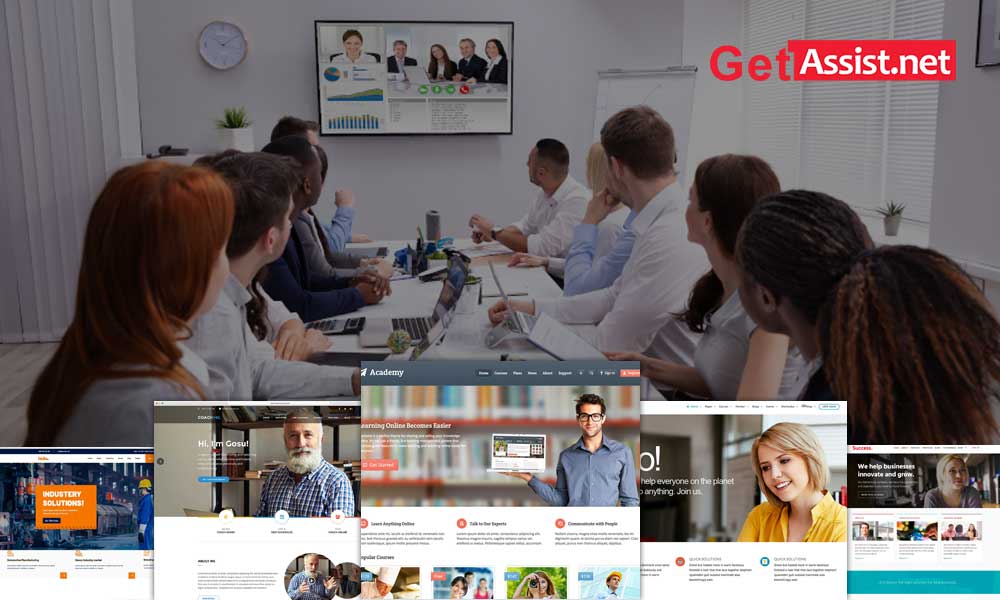 At a difficult time when people across the world are required to spend days and weeks at home, web communications could not be more essential. As we all hope for improvements in the shared crisis, the best thing we can do is stay positive and try to continue working in any way that we can. Web conferencing can be an excellent way to stay connected with colleagues and keep things moving forward.

Though many have premium services, there are many excellent free web conferencing tools and free website platforms that can help in cutting costs. Conferencing platforms have a range of features, such as screen sharing or live chat, and allow a different number of participants in a meeting.
Cisco Webex
The networking and security firm, Cisco, developed this as one of the earliest web conferencing solutions. On the free plan, video conferencing users are allowed up to three participants, with various additional features offered on paid plans. Webex gives users the chance to share their screens, test video or audio before a meeting, and connect via a mobile device. Users can also record sessions and content, and integrate with Cisco Spark, an office messaging and team collaboration app. As a leading security company, Cisco ensures that their products have the highest levels of security and encryption.
Zoom Meeting
Zoom Meeting has a good free version, though the paid plans are at a low cost. With the free plan, conferencing is limited to three participants, and calls can only be 40 minutes in length. But the number of meetings allowed is not limited, and for one-to-one calls, there is no time limit. On all paid plans, the number of participants and the length of calls are unlimited. Zoom has a wide range of features, which include screen sharing for desktop and mobile, MP4 recordings of meetings, a virtual whiteboard, and private and group chat. Mouse and keyboards can also be shared.
Google Hangouts Meet
As part of the free G Suite platform from the tech giant, Google Hangouts Meet is a reliable and high-quality service. Features with the free plan include video chat, instant messaging, sending and receiving SMS messages, and VoIP (Voice Over Internet Protocol) calls. Group video chats can include a maximum of 10 participants, and it also features screen sharing. Hangouts has the added advantage of easily using and sharing data with other applications in the G Suite platform. This could include coordinating with Google Calendar to plan and set up meetings or record information in real-time.
Skype
Perhaps the biggest name in online calls, Skype is a software application from Microsoft. For video or audio conferencing, an impressive 50 users can take part in a single meeting. Participants can be invited even if they are not on Skype, and calls can be joined through a forwarded link. Calls and meetings can be recorded, and screen sharing is available for sharing presentations and files during a call. Though there is an application to download, conference calls can be hosted online for free and without any need to download or sign up. The ubiquity of Skype makes it a popular choice for interviews, webinars, or conferences.  
TeamViewer
With over two billion devices connected, TeamViewer is another leading provider of web conferencing solutions. Similar to Cisco Webex, TeamViewer emphasizes the quality of the platform's security for remote access and support. The platform includes audio and video conferencing for up to six participants, screen sharing, text-based chat, and support across a range of mobile devices. There is also the ability to run remote sessions simultaneously by using tabs, and a QuickJoin feature that allows participants to join meetings and presentations without needing to sign in or download anything. Sticky notes can be left behind messages to clients and customers.
Apache OpenMeetings
OpenMeetings from Apache is completely free and open source. Web conferencing can take place in Meeting mode with up to 16 participants, or Lecture mode with up to 200 participants. In Meeting mode, anyone can share files, but in Lecture mode, only the lecturer can do this. OpenMeetings also features screen sharing, instant messaging, collaborative document editing, and a virtual whiteboard. Users are able to record meetings with audio included. Conferences can be video only, audio only, or even images only. The user interface (UI) is not the most appealing, but the user experience (UX) is more than sufficient.
Join.me
From some people behind the LogMeIn range of collaboration tools, Join.me is aimed at connecting individuals and teams in interoffice communications. The software enables these communications to be immediate, and at any time or place. Until 2019 the platform was completely free, but paid plans have since been introduced. While there is still a free plan, it does not allow users to act as a host to meetings. Video and audio conferencing is available, and the app is easily integrated with Google Calendar or Microsoft Outlook for one-click scheduling. There is a 14-day free trial for the premium plan, after which Join.me is priced from $20 per month.
FreeConference
A straightforward app for meetings and video conferencing, FreeConference is available online and does not require software to be downloaded. The free plan allows up to five participants in video calls and up to 1,000 participants in audio calls. The first paid plan offers a two-month trial period and allows up to 15 participants in video conferencing. Screen sharing and instant chats are also possible, the software is available across mobile devices, and calls can be recorded. There is also a virtual whiteboard, document sharing, and email support. However, advanced security and video recording are only available on premium plans.
Each web conferencing application brings a different range of benefits, and the most suitable program could be due to the features, integrations, participants, or visual aesthetics. The final decision may also depend on which platforms are already familiar to team members. Fortunately, there is a wide selection to choose from, so if one app is not suitable, it can be easily changed.
Also read-