Finding a profitable online trading platform isn't an easy task, although there are a lot of companies that provide such services. Today we are going to review one of them. Read this article till the end, and you will find out whether the DotBig company is worth working with.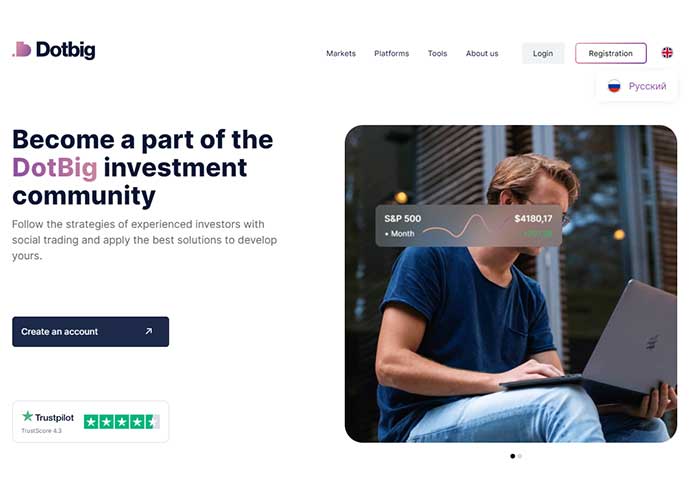 Introduction
DotBig Ltd is a brokerage company registered in St Vincent and the Grenadines under the number 26350 BC 2021. It's a legit organization that provides services mostly to clients from Europe, but it also accepts US clients, traders from Asia and India. The broker has been operating since 2003 and its clients base is now rapidly increasing.
Creating a Personal Account
Once you decided to start Forex trading with DotBig ltd, you need to look through the requirements and conditions of the broker. They are available on the website in the section of the Client Agreement. Look through it carefully and make sure you understand all the terms and conditions. If there is a need to contact the broker's support teams, you can do this via any of the available means, via email – hello@dotbig.support, or by phone:
+658004922255
+448000465523
+18003142855
+972809399855
To activate your personal account, you need to do the following:
Verify your identity by providing ID documents.
Choose the type of payment service.
Select account type.
Make the first deposit.
Account Types
With the DotBig forex broker, traders can choose between the following account types:
Basic. Deposit $100 and get unlimited access to training materials for beginners. Unlike many other companies, DotBig forex broker doesn't limit the number of available assets for clients with a minimum deposit. Even those who deposit $100 can speculate of Forex and other markets without limitations. The only drawback of this type of account is high commissions on withdrawals. 
Standard. Users of Standard accounts have to make deposits not lower than $2,500. Such clients receive a number of additional perks. One of them is they can withdraw funds without paying fees once a month. Another one – is unlimited access to webinars of the PRO category.  
Silver. As reported in many DotBig testimonials, a Silver account is a favorable option for professional investors. Those who activate these accounts by depositing at least $10,000 are provided with a personal trading strategy and personal recommendations for compiling the portfolio of investments. 
Platinum. The activation of the Platinum account requires a minimum deposit of $25,000. With it, you can withdraw funds without paying fees three times a month. Plus, you get a 10% return from swaps. 
Demo. Reviews of dotbig.com claim that the demo account here provides a real trading experience. This is the best way for beginners to learn trading and avoid potential losses due to a lack of experience.
Info for Traders
When reading DotBig testimonials, you will learn about many people who managed to succeed thanks to profitable trading conditions and top-notch instruments for analysis. Let's figure out whether these stories are based on real experiences and whether the conditions are really profitable.
Forex. DotBig forex broker offers 71 currency pairs to be traded on Forex. The spreads for major pairs vary from 1 to 2 pips. Some users report that spreads for minor assets often go higher, unexpectedly.
Stock CFDs. The range of available financial instruments includes over 200 shares of such companies as Tesla, Uber, Facebook, etc. The spread is floating and starts as low as 0.65 pips. The minimum trading size is 1/10 of a share.
Indices CFDs. When trading Indices CFDs here, you can manage the sizes of positions by using small contracts. Except for this, you don't pay commissions for trading Indices, because fees are included in spreads.
Commodities CFDs. Speculate some of the major assets without paying fees for trading.
Crypto trading. Store your digital assets on the special DotBig card. Make deposits with it and trade 5 cryptocurrencies. You can also make deposits in crypto. Use any of the available crypto wallets.

Payment Services
As a forex specialist, you could apply for a trader account at customary installment passage arrangements. In any case, they will decline your application.
Since high-hazard processors charge monstrous expenses and component slow exchange speeds, forex dealers regularly end up without a good installment passage arrangement.
Fortunately, DotBig deposits got the solution to your problems:
Credit/debit cards;
Bank transfers;
Cryptocurrency:

BTC
ETH
USDT
LTC

Alternative means:

Transferwise
PayPal
Qiwi
Webmoney
YooMoney
Advantages and Disadvantages
Pros:
access to crypto trading;
wide variety of shares to speculate;
unpaid training programs;
high-end signals and indicators;
venture investments are available;
commission-free stock trading.
Cons:
3.5% commission;
a $50 limit on a minimal withdrawal;
no binary options to trade;
inactivity fees
Final Thoughts
When making this review, we relied not only on our professional knowledge but on the DotBig testimonials. We consider that reviews of real clients are the most trusted sources of information in the forex industry. DotBig company deserves your attention because the broker has managed to establish a reputation as a trusted intermediary agent that provides constant support and generous bonuses.