As a photographer making each client sign a contract is essential unless you want to end up in a courtroom battling a lawsuit. A photography contract is a legally binding document that defines the job parameters between you and your client. A client can be anyone or any entity that you've built a relationship within this capacity.
It's vital for the contract to cover more than just the basics. It should state the requirements, duration, and fees required by the project for the client. It should also include coverage of specific and often unique instances of each event you're photographing.
Once you've all agreed on terms and signed the contract, each party takes responsibility as assigned.
When to Use a Photography Contract?
When you're providing a client's photography service, it's crucial to have a document in place that both parties understand and accept. A photographic contract varies depending on the project. It might be for portrait photography, event photography, commercial photography, or wedding photography.
Some family members or friends often get entitled and take offense if you offer them a contract for your services. They tend not to understand that it's just business and nothing personal. Having every photograph contract sign, by the client is key.
So, when should I use a photographic contract? Before you start any project, be it for a professional shoot, commercial or wedding, or even family, draft an agreement that clearly states what you and your client's expectations are.
If you chose to hire an attorney to help write your contracts or go with the attorney-drafted free basic contract templates at CocoSign, remember to add necessary details and how important a photographic contract is for your business.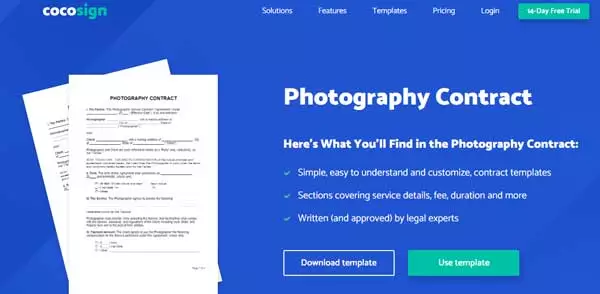 Reasons Why Every Photographer Should Use Contracts
1. It Sets Expectations
It sets everyone's expectations regarding what services will be rendered, what's in for the client, how the images will be used, and its limits. It's also important to provide an agreement for both paid and unpaid shoots.
By doing this, both parties will understand precisely what is expected of each other, hence eliminating the following concerns:
Will the client recognize the value of my work?
Will they ask for more than I'm willing to give for free?
Is the project worth my time? Because I don't want to feel used.
2. Provides a Reference Point Where There's Controversy
In case of an issue or misunderstanding, the photographer can simply refer the client to the contract provisions. It is an excellent way to remind each party of their responsibilities gently. A contract provision often defines actions to be done by a specific date or within a certain period.
Having the contract in place eliminates miscommunication; that's why CocoSign helps you to navigate through different forms of photography contracts. It'll save you heartache and enable the signing of the contract up front.
3. Holds Everyone Accountable
A photography contract highlights what is expected of each other. It'll be challenging to hold any party accountable for the work done or mistakes made without it. Sometimes clients (especially a family or friend) may want to bend the rules to suit them.
Having a contract in place makes it easy to conclude each party's responsibility on the project and make adjustments accordingly.
4. Defines Ownership of Artistic Property
More often than usual, clients believe they own the images/videos from hiring your services. To protect your work from copyright and usage violations, you must have a photography contract in place.
The agreement allows photographers to set things right about copyright ownership and citing the appropriate law.
5. Serves as Proof of Professionalism
A photograph contract provides a professional relationship to the client. They're all about building a healthy relationship with your client. Generally, a client respects you and your work more when you confidently act and work like a business person.
All professionals use contracts every day. Usually, clients who seek out custom portraiture want a professional relationship. Therefore, without a drafted contract on the table, there's a risk of not being trusted or considered unprofessional.
6. Facilitates Fast Payments
If you wish to get paid fully and on time, getting a contract is a way to go. You can even dictate how you want to be paid and what happens if there're any bounced checks and taxes involved. Photos with policies and agreements are more likely to be respected and paid by their clients.
7. Simplify Disputes Resolutions
Despite having entered into a photography contract, you may still get into a disagreement with a client. In the event the other party violates the agreed terms and conditions, the contract at hand would provide knowledge on how to resolve the disputes.
For instance, you may stipulate that a mediator must be used to resolve any conflicts or choose to seek legal counsel for reimbursement of the damages or breach of contract.
Conclusion
A contract serves as a relationship-building tool that proves to your clients how committed you are to provide clear communication, define expectations, and fulfill promises.
An effective contract should specify and customize each party's needs and specific events to protect yourself, the business, and your clients.