WhatsApp has become the most popular messaging application across all operating systems. With over 1.5 billion users, it has found a way into everyone's life. Although it is a great way to stay connected with friends, some kids may start over using this platform.
That is why parents always look for a solution to control their children's WhatsApp chatting. Facebook spends millions of dollars on the security of this application. Hence, it becomes much harder to read someone's WhatsApp messages by hacking them. However, there is still an excellent way to control and read your children's messages without letting them know. You can use a phone monitoring application to check their WhatsApp account remotely.
This article covers everything about one such application and gives you a step-by-step guide to doing it yourself.
Is it Safe to Use a Phone Monitoring Application?
There are hundreds of phone monitoring applications available on the internet. Some of them can be harmful to your devices. Usually, the free applications that offer their services without charging any money are unsafe to use. However, there are still dozens of applications that work great and do not possess any risk to your device.
One such application is FoneMonitor. It works on the private keys, and no one other than you can access the retrieved data. This application works by installing a setup on your kid's device and helps you monitor it remotely. Hence, there is no risk involved in using such applications.
Note: We will discuss the working of this application later in this article.
FoneMonitor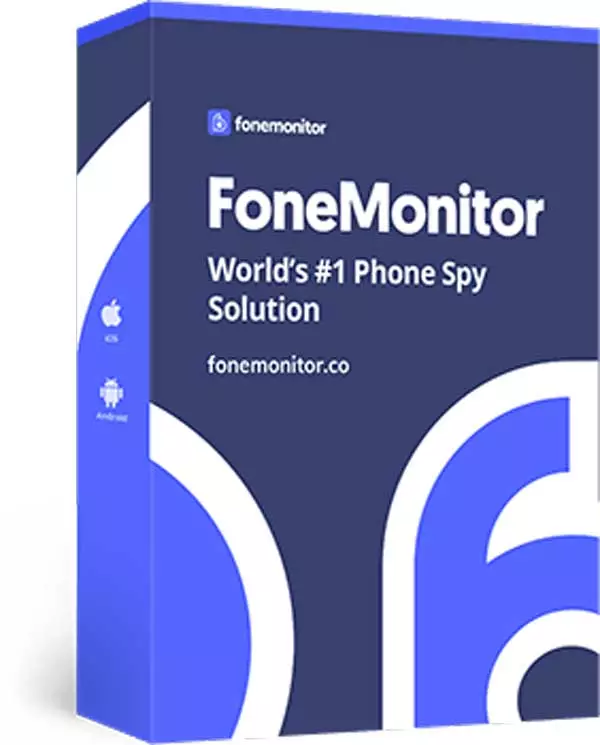 FoneMonitor is a phone monitoring application that allows its users to track a device online. Parents who want to keep their kids safe can use this application to monitor them. The signup is free, and you can even use their demo version to know how it works.
Considering the requirements of parents, the developers have made it easier to set up this application. They need to follow three easy steps to start tracking their kid's WhatsApp messages. Additionally, there are many other features like location tracker and social media spy that improve your monitoring experience.
All the retrieved messages are filtered out to find out who received the messages from your kid's device.
How does it work?
This application works by installing a 2MB setup on the targeted device. It syncs the device to your online account and records all their activities. This way, you can access their location, call logs, or WhatsApp conversations any time you want. FoneMonitor helps you to track your kid's activities remotely.
The best thing about its working is that it does not require a rooted device to work. You can install it on any device by just following the installation guide. After the device verifying the process, it works on the private keys and protects your data and privacy from other third-party applications.
You can check its terms & conditions and privacy policy to know more about the working of this application.
Easy Guide to Control Children's WhatsApp Chatting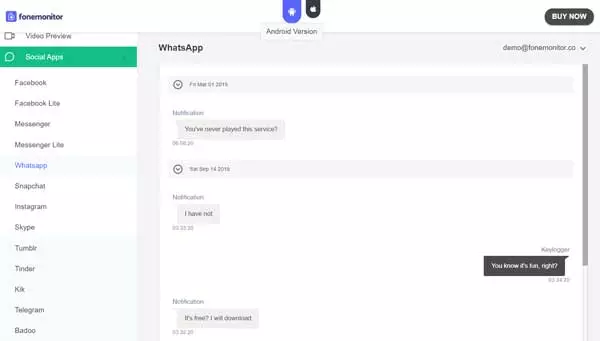 As we mentioned earlier, one can read someone's WhatsApp messages with this application. You can refer to their installation guide or follow these steps to complete the setup for WhatsApp monitoring:
Registration Process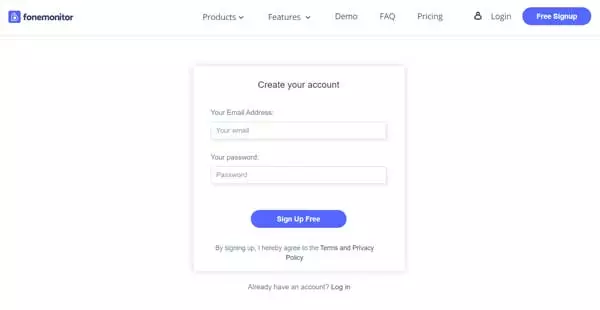 The registration process has two steps- Sign Up and Membership. You can start by visiting their official website to create an account. Enter your name, email address, and create a password for your new FoneMonitor account. You will get a link to your registered email to verify it. Click on the link, and your account will be verified.
On the other hand, the membership step requires you to choose any of their subscription plans to use this platform. They have created 3-4 membership plans to make sure anyone can choose the right subscription as per their requirements.
Targeted Device Verifying Process
The next step is to verify the targeted device online. It will sync the device activities with your online account. Then, you will be able to check all the activities (including WhatsApp) on your web browser. Click on the relevant icon of your targeted device operating system.
If you want to target an Android device, then download and install the application on their device. It will take several minutes to prepare their device for the phone monitoring,
If you want to target an iPhone device, then you will need to enter the iCloud credentials of their online account. It will sync their device and help you track it with a single click.
WhatsApp Monitoring Process
The previous step will complete the setup process. Now, login back to your account and click on the dashboard. It will show you a list of features. Click on the WhatsApp spy feature from the list. A new window will open where you can find all the conversations of their device with a simple user interface.
The best thing is that you can track all these messages without worrying about getting caught. It does not change anything on their device while opening the conversations.
What Else Can You Do with FoneMonitor?
This application is not limited to WhatsApp monitoring. You can also check their social media accounts like Snapchat and Facebook. Additionally, it can access their call logs and location as well.
Final Words
Controlling your kid's WhatsApp chatting is no longer a problem now. All you need is to use this excellent platform and track as many devices as you want. The best thing is that you don't need to verify it every time you want to use it.
Additionally, you can use it without worrying about security issues. Millions of people are using this application on their kid's device. However, if you still have any doubts, you can always check their terms & conditions or use their demo version to find out.
They also provide a 60-day money-back guarantee on all the subscription packs.