Working with PDF is nothing less than bliss as PDF files are easy to share, edit, and process. However, sometimes we need to change the format of the PDF files as per the needs of the clients. For instance, a client might need the Word version of a PDF-based file.
In that case, one must know a way to convert the PDF to Word or any other format quickly and accurately. There are a couple of online PDF converts that can help you with this job. However, the majority of the open-source PDF editors lack the required resources for this task.
We carried out extensive research and figured out one of the most famed and dependable tools that will help you convert the PDF to the desired format in a blink of an eye. Scroll down to know more about it.
CocoDoc – Seamless and Speedy PDF Convert with Best-of-breed Features
Out of tons of online PDF converts, CocoDoc has managed to earn a special place and position because of its high-end features and facility. It is a browser-based tool that can be used from any device and browser without asking a lot.
With its help, one can easily compress a pdf file, change the format, and make desired changes without much hassle.
Because of its high-end usability, millions of users have already used it for converting PDFs. Presently, citizens of 190+ countries are availing of the beneficial facilities of this online PDF conversion tool.
This platform is globally recognized and has been applauded by many famous brands like TechTimes, Phandroid, iLounge, Pocket-line, and MacWorld many times.
After reading this, you must be convinced that CocoDoc is not a run-of-the-mill tool and deserves your time and efforts.
Wondering more reasons to have faith in CocoDoc? Don't worry! We have got your back here as well.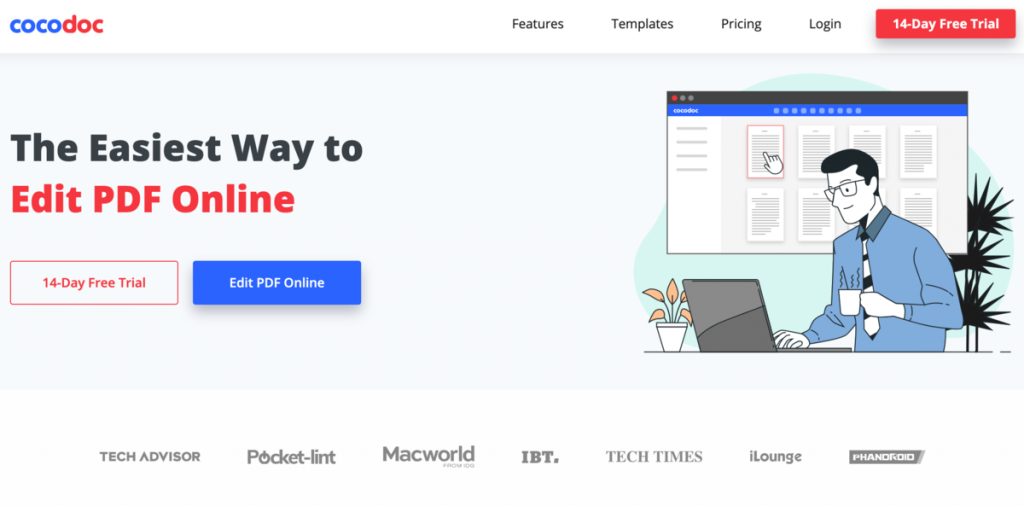 ● CocoDoc is Utterly Secure
Sharing online PDFs can be a risky job if the files are not properly secured. CocoDoc knows this very well and provides best-of-breed encryption.
It uses 256-Bit encryption to safeguard the PDF files. Besides, you can make the targeted PDFs password protected. With all these means, it makes the PDF secure enough to share online without any fear.
● High-end OCR Technology
With CocoDoc, accuracy is a sure thing. While you convert the PDFs, no information is removed or deleted. All thanks go to the OCR technology of the CocoDoc that scans the PDF files accurately and speedily.
This technology is highly useful when automated data extraction is concerned. It allows you to convert the targeted text into readable and searchable texts.
● Cloud Storage Integration
CocoDoc streamlines the PDF storage and management up to great extent with its cloud storage integration.
One can upload or download PDF files from platforms like Drive, Dropbox, and OneDrive over a single click. It is a game-changer as business-critical documents can be stored at a centralized place and shared easily. PDFs can be fetched from a URL.
● Professional looking e-signature
To make your PDF files more compliant, CocoDoc lets you create e-signatures.
End-users can customize the signs as many times as they need. Its technology is so advanced and high-end that digital signatures look like actual signatures. Signatures can be placed as the desired place with simple drag-and-drop.
● No Installation Service
As mentioned above, CocoDoc is a 100% browser-based solution. No set-up and installation is required to get started with it. You can get started with CocoDoc by simply accessing the internet connection, a data-driven device, and a browser.
It works perfectly fine on all the leading devices, supported by iOS, Android, Windows, macOS, and Linux. Its interface is so straightforward that first-timers will have no issues accessing it.
● A Wide Range of Free Templates
You will start loving CocoDoc a little more once you'll figure out that this tool comes with a huge number of free PDF templates that can be used for forms and business documents. With this facility, one can enjoy a speedy and accurate documentation generation process.
● Endless Editing
Whether you want to add images on the PDF or add searchable fields, everything is possible with CocoDoc. It supports a wide range of editing features and lets the end-users have a fully customized PDF file.
Seeing these features, it is easy to conclude that CocoDoc is a highly revolutionized tool that is hard to miss out on.
What Kind of PDF Conversion Can be Performed with CocoDoc?
When it comes to PDF conversion, there is hardly anything that can beat CocoDoc because it can convert PDFs in all kinds of formats. The targeted PDF files can be converted into Word, Excel, PPT, and JPG format.
Files generated in all these formats can be converted into PDFs as well.
This way, it lets a person use PDFs with more confidence and meets the compliances, business requirements, and other implications easily.
Is It a Good Investment?
Having this question in your mind is natural as we all want to make most of the invested money.
We take immense pleasure to announce that CocoDoc delivers the best value of money and is a good deal by all means.
It offers a 14-day free trial. Its trial is not like any other free trial as they restrict the use of features and facilities. On the contrary, CocoDoc lets the users enjoy the full-fledged features. So, you can make the most of the free trial.
Even its paid versions are very cost-effective. Its premium and business packages will cost only $12 per month and $25 per month respectively. At this cost, one can explore a wide range of features and facilities.
The Final Say
PDF conversation is no longer a headache if you're taking the help of CocoDoc. This powerful online PDF converter has automated the entire process of PDF conversion and has eliminated the obvious hassle.
Whether you want to convert the PDFs into PPT or JPG, it will make it happen over a single click. Don't miss out on its free trial. It is a great way to explore its capabilities without any restrictions.